Tampa offers many of the advantages of the big city life, without the problems associated with size (like traffic). There's over 20+ golf courses in the area from which you can tee off, ranging any skill level or budget. Rocky Point, a municipal course, is conveniently located close to the airport and is perfect for quick getaways. Great temperate weather and excellent courses for every taste.
Don't see your favorite course? Please let us know and we'll add it.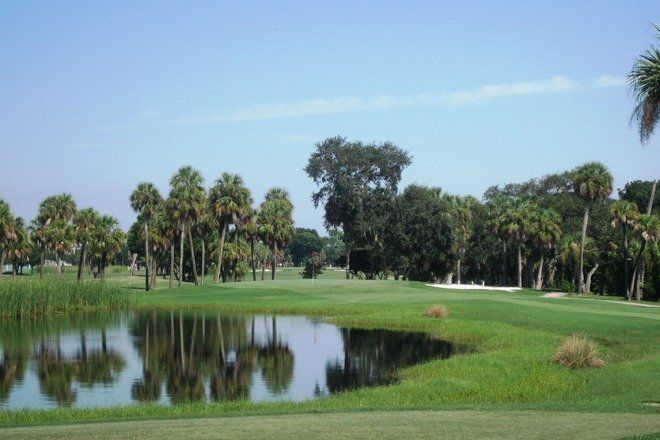 Rocky Point Golf Course in Tampa.
Private Courses
Avila Golf & Country Club
943 Guisando De Avila, Tampa, FL 33613
http://www.avilagolf.com/golf/
(813) 961-1770
Carrollwood Country Club
13903 Clubhouse Dr, Tampa, FL 33618
http://www.carrollwoodcc.com
(813) 961-1381
Feather Sound Country Club
2201 Feather Sound Dr, Clearwater, FL 33762
http://www.fscc.club
(727) 573-5666
Hunter's Green Country Club
18101 Longwater Run Dr, Tampa, FL 33647
http://www.clubcorp.com/Clubs/Hunter-s-Green-Country-Club
(813) 973-1000
Old Memorial Golf Club
13600 National Golf Dr, Tampa, FL 33626
http://www.oldmemorialgolfclub.com
(813) 926-8888
Palma Ceia Golf & Country Club
1601 S Macdill Ave, Tampa, FL 33629
http://www.pcgc.org
(813) 253-3101
Tampa Palms Golf & Country Club
5811 Tampa Palms Blvd, Tampa, FL 33647
http://www.clubcorp.com/Clubs/Tampa-Palms-Golf-Country-Club
(813) 972-1991
Public Courses
Babe Zaharias Golf Course
11412 Forest Hills Dr, Tampa, FL 33612
http://www.babezahariasgolf.net/home
(813) 631-4374
Countryway Golf Club
11111 W Waters Ave, Tampa, FL 33635
http://www.countrywaygc.com
(813) 854-1182
Emerald Greens Condo Resort
13941 Clubhouse Dr, Tampa, FL 33618
http://www.emeraldgreensresort.com/
(813) 961-9400
Heritage Isles Golf & CC
10630 Plantation Bay Dr, Tampa, FL 33647
http://www.heritageislesgolf.com
(813) 907-7447
Macdill Air Force Base Golf Course
1803 Golf Course Ave, MacDill AFB, FL 33621
https://www.macdillfss.com/mainmenusub-rc.aspx?SectionID=410
(813)840-6904
Pebble Creek Golf Club
10550 Regents Park Dr, Tampa, FL 33647
https://www.pebblecreekclub.com/
(813) 973-3870
Northdale Golf and Tennis Club
4417 Northdale Blvd, Tampa, FL 33624
http://www.northdalegolf.com
(813) 962-0428
Riverside Golf Course
Ruskin, FL 33570
https://www.suncommunities.com/community/riverside-club/
(813) 641-2049
Rocky Point Golf Course
4151 Dana Shores Dr, Rocky Point, FL 33634
http://www.rockypointgolf.net/contac-us
(813) 673-4316
Rogers Park Golf Course
7911 N 30th St, Tampa, FL 33610
http://www.rogersparkgolf.net/
(813) 356-1670
Summerfield Crossings Golf Club
13050 Summerfield Blvd, Riverview, FL 33579
http://www.summerfieldgc.com
(813) 671-3311
Temple Terrace Golf & Country Club
200 Inverness Ave, Temple Terrace, FL 33617
http://www.templeterracegolf.com
(813) 988-1791
Terrace Hill Golf Club
7740 Temple Terrace Hwy, Temple Terrace, FL 33637
http://www.golfterracehill.com
(813) 985-4653
The Claw at USF
13801 N 46th St, Tampa, FL 33613
https://www.theclawatusfgolf.com
(813) 497-2023
Westchase Golf Club
11602 Westchase Golf Drive, Westchase, FL, 33626
http://westchasegc.com
(813) 854-2331
Westchase Golf Club
11602 Westchase Golf Dr, Tampa, FL 33626
http://www.westchasegc.com
(813) 854-2331