San Francisco is home to the world-famous Olympic Club, as well as the Presidio and Golden gate courses. To help you choose from among the many courses in the San Francisco Bay area, we created a zoomable interactive map (above) and a list of courses (below) in and around San Francisco. We hope these tools will help you spend less time doing research and more time playing.
And once you pick a course where you want to play, avoid shipping, checking or taking your chances renting at a course, and rent premium clubs from Clublender. We'll take care of getting your golf clubs to the course or to your accommodations (or just about anywhere else you'd prefer, for that matter); wherever is easiest for you. Delivery and return is included. You can focus on golf and sun while we handle the logistics. Own the experience, not the clubs.
Don't see your favorite course in the area? Please let us know.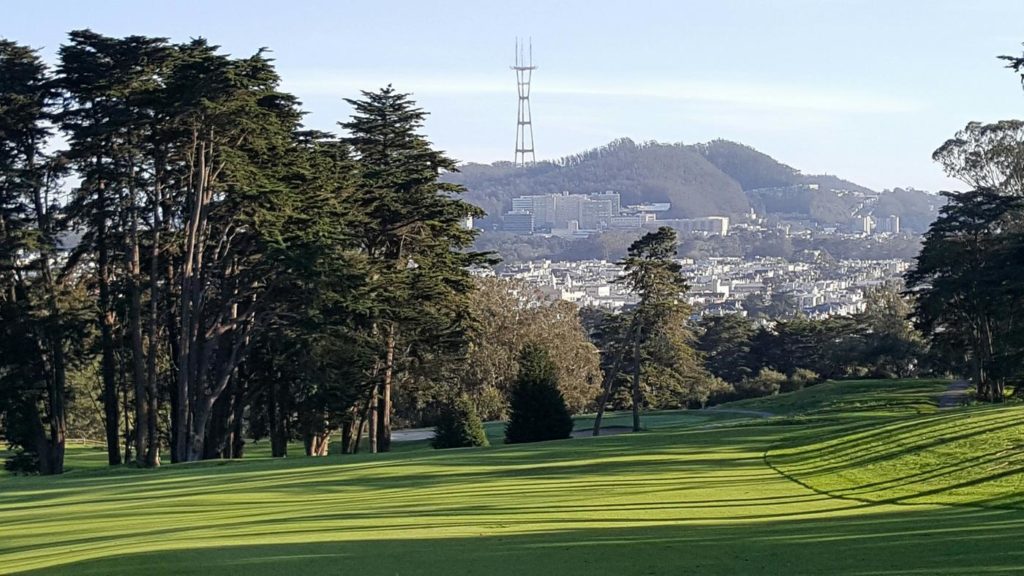 Public Golf Courses
Callippe Preserve Golf Course
8500 Clubhouse Dr., Pleasanton, CA 94566
playcallippe.com
(925) 426-6666
Chuck Corica Golf Complex
1 Clubhouse Memorial Rd, Alameda, CA 94502
alamedagolf.com
(510) 747-7800
Fleming 9 Course
99 Harding Rd, San Francisco, CA 94132
tpc.com/hardingpark/fleming-course/
(415) 664-4690
Gleneagles Golf Course at McLaren Park
2100 Sunnydale Ave, San Francisco, CA 94134
gleneaglesgolfsf.com
(415) 587-2425
Golden Gate Park Golf Course
970 47th Ave, San Francisco, CA 94121
goldengateparkgolf.com
(415) 751-8987
Half Moon Bay Golf Links
2 Miramontes Point Rd, Half Moon Bay, CA 94019
halfmoonbaygolf.com
(650) 726-1800
Harding Park Golf Course
899 Lake Merced Blvd, San Francisco, CA 94132
tpc.com/hardingpark/current-rates/
(415) 584-1775
Lincoln Park Golf Course
300 34th Ave, San Francisco, CA 94121
lincolnparkgolfcourse.com
(415) 221-9911
Mariners Point Golf Center
1067, 2401 E 3rd Ave, Foster City, CA 94404
marinerspoint.com
(650) 573-7888
Metropolitan Golf Links
10051 Doolittle Dr, Oakland, CA 94603
playmetro.com
(510) 569-5555
Monarch Bay Golf Club
13800 Monarch Bay Dr, San Leandro, CA 94577
monarchbaygc.com
(510) 895-2162
Poplar Creek Golf Course
1700 Coyote Point Dr, San Mateo, CA 94401
poplarcreekgolf.com
(650) 522-4653
Poppy Ridge Golf Course
4280 Greenville Rd, Livermore, CA 94550
poppyridgegolf.com
(925) 447-6779
Presidio Golf Course
300 Finley Rd, San Francisco, CA 94129
presidiogolf.com
(415) 561-4653
Sharp Park
Sharp Park Rd, Pacifica, CA 94044
sfrecpark.org/destination/sharp-park/sharp-park-golf-course/
(650) 359-3380
Summitpointe Golf Club
1500 Country Club Dr, Milpitas, CA 95035
summitpointegc.com
(408) 262-8813
The Course at Wente Vineyards
5040 Arroyo Rd, Livermore, CA 94550
wentevineyards.com
(925) 456-2477
Tilden Park Golf Course
10 Golf Course Dr, Berkeley, CA 94708
tildenparkgc.com
(510) 848-7373
Private Golf Courses
Berkeley Country Club
7901 Cutting Blvd, El Cerrito, CA 94530
berkeleycountryclub.com
(510) 233-7550
California Golf Club of San Francisco
844 W Orange Ave, South San Francisco, CA 94080
calclub.org
(650) 588-9021
Lake Merced Golf Club
2300 Junipero Serra Blvd, Daly City, CA 94015
lmgc.org
(650) 755-2233
The Olympic Club
599 Skyline Blvd, San Francisco, CA 94132
olyclub.com
(415) 404-4300
Richmond Country Club
1 Markovich Ln, Richmond, CA 94806
myrichmondcc.org
(510) 232-1080
Ruby Hill Golf Club
3400 W Ruby Hill Dr, Pleasanton, CA 94566
rubyhill.com
(925) 417-5840
Sharon Heights Golf & Country Club
2900 Sand Hill Rd, Menlo Park, CA 94025
sharonheightscc.com/
(650) 854-6422
Stanford Golf Course
198 Junipero Serra Blvd, Stanford, CA 94305
golfcourse.stanford.edu
(650) 724-0944