Golf giants Callaway and Titleist choose Carlsbad in San Diego County as the location for their headquarters. Why? Because San Diego offers prefect golf weather year round, with ocean and desert courses. To help you choose from the plethora of choices among San Diego golf courses, we've put together an interactive map (above) and accompanying list (below) of San Diego golf courses to help make your decision about where to play as easy as possible. We hope these tools will help you spend less time doing research and more time playing.
San Diego, which uses the slogan "the Sweet Spot for Golf," is home to the fabled Torrey Pines golf courses (North and South) as well as many fine public courses, including Coronado Municipal, Balboa Park, Steele Canyon, Mission Bay, Del Mar, and Rancho Bernado Inn–and you can rent golf clubs from Clublender for convenient play at any one of them. Return is included in the price. There are no hidden fees. Choose from any of our accessory options, including Bushnell rangefinders, Callaway, Titleist and Kirkland golf balls, and Footjoy gloves. Rent golf clubs online from Clublender. Own the experience, not the clubs.
Don't see your favorite course in the area? Please let us know.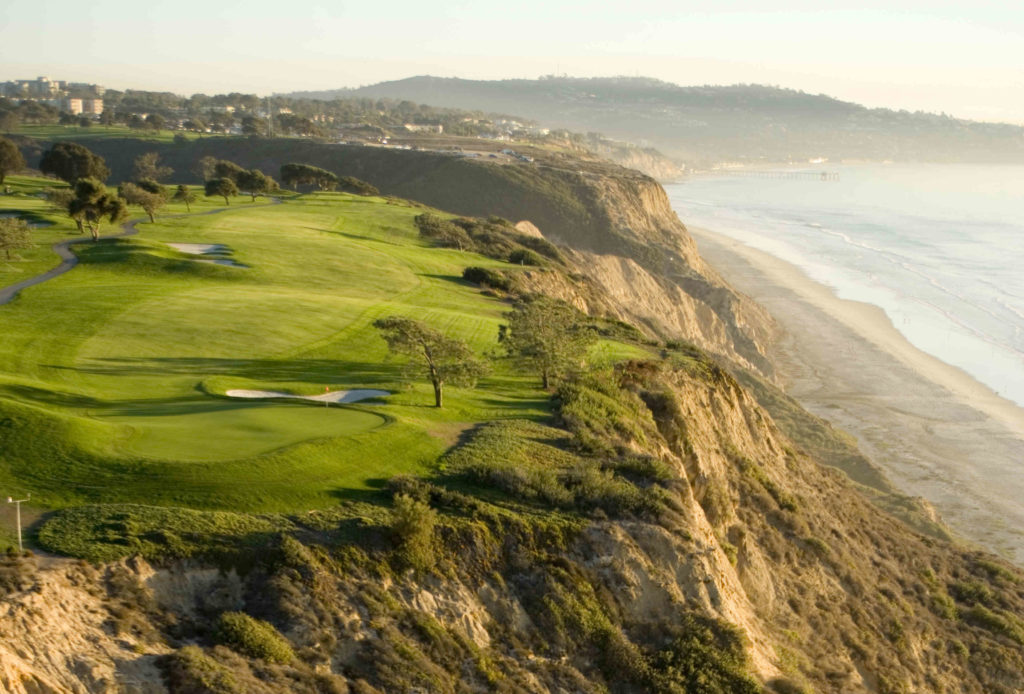 Public Courses
3 Par At Four Points
8110 Aero Dr, San Diego, CA 92123
golfsd.com/shera_4pts.html
(858) 277-8888
Arrowood Golf Course
5201 Village Dr, Oceanside, CA 92057
arrowoodgolf.com
(760) 967-8400
Aviara Golf Club
7447 Batiquitos Dr, Carlsbad, CA 92011
golfaviara.com
(760) 603-6900
Balboa Park Golf Course
2600 Golf Course Dr, San Diego, CA 92102
sandiego.gov/park-and-recreation/golf/bpgolf
(619) 235-1184
Barona Creek Golf Club
1932 Wildcat Canyon Rd, Lakeside, CA 92040
barona.com
(619) 387-7018
Bonita Golf Course
2137, 5540 Sweetwater Rd, Bonita, CA 91902
bonitagolf.net
(619) 267-1103
Carlton Oaks Country Club
9200 Inwood Dr, Santee, CA 92071
carltonoaksgolf.com
(619) 448-4242
Carmel Mountain Ranch Golf Course
14050 Carmel Ridge Rd, San Diego, CA 92128
jcgolf.com
(858) 487-9224
Chula Vista Golf Course
4475 Bonita Rd, Bonita, CA 91902
chulavistagc.com
(619) 479-4141
Colina Park Golf Course
4085 52nd St, San Diego, CA 92105
colinaparkgolf.com
(619) 255-4425
Coronado Municipal Golf Course
2000 Visalia Row, Coronado, CA 92118, USA
golfcoronado.com
+1 619-522-6590
Fairmont Grand Del Mar
5300 Grand Del Mar Ct, San Diego, CA 92130
fairmont.com/san-diego/golf/
(858) 314-2000
JC Golf
1441 N Twin Oaks Valley Rd, San Marcos, CA 92069
jcgolf.com
(858) 675-8470
Miramar Memorial Golf Course
3550 Anderson Ave, San Diego, CA 92145
mccsmiramar.com/golfcourse/
(858) 577-4155
Mission Trails Golf Course
7380 Golfcrest Pl, San Diego, CA 92119
missiontrailsgc.com
(619) 460-5400
National City Golf Course
1439 Sweetwater Rd, National City, CA 91950
nationalcitygc.com
(619) 474-1400
Oaks North Golf Course
12602 Oaks N Dr, San Diego, CA 92128
jcgolf.com
(858) 487-3021
Omni La Costa Resort & Spa
2100 Costa Del Mar Rd, Carlsbad, CA 92009
omnihotels.com/hotels/san-diego-la-costa/golf
(760) 438-9111
Rancho Bernardo Inn
17550 Bernardo Oaks Dr, San Diego, CA 92128
ranchobernardoinn.com/golf/overview
(855) 574-5356
Riverwalk Golf Club
1150 Fashion Valley Rd, San Diego, CA 92108
riverwalkgc.com
(619) 296-4653
San Vicente Resort and Golf Course
24157 San Vicente Rd, Ramona, CA 92065
sanvicenteresort.com
(760) 789-3788
Sycuan Golf Resort
3007 Dehesa Rd, El Cajon, CA 92019
sycuanresort.com
(800) 457-5568
Tecolote Canyon Golf Course
2755 Snead Ave, San Diego, CA 92111
tecolotecanyon.com
(858) 279-1600
The Loma Club
2960 Truxtun Rd, San Diego, CA 92106
thelomaclub.com
(619) 222-4653
The Vineyard at Escondido Golf Club
925 San Pasqual Rd, Escondido, CA 92025
vineyardatescondido.com
(760) 735-9545
Torrey Pines Golf Course
11480 N Torrey Pines Rd, La Jolla, CA 92037
torreypinesgolfcourse.com/
(858) 452-3226
Private Courses
Bernardo Heights Country Club
16066 Bernardo Heights Pkwy, San Diego, CA 92128
clubcorp.com/Clubs/Bernardo-Heights-Country-Club
(858) 487-4022
Bridges At Rancho Santa Fe
18550 Seven Bridges Road, Rancho Santa Fe, CA 92091
thebridgesrsf.com
(858) 759-7200
Crosby National Golf Club
Bing Crosby Blvd, San Diego, CA 92127
thecrosbyclub.com
(858) 759-3846
La Jolla Country Club
7301 High Ave, La Jolla, CA 92037
lajollacountryclub.com
(858) 454-9601
Morgan Run Club & Resort
5690 Cancha De Golf, Rancho Santa Fe, CA 92091
clubcorp.com/Clubs/Morgan-Run-Club-Resort
(858) 756-2471
San Diego Country Club
88 L St, Chula Vista, CA 91911
sandiegocountryclub.org
(619) 422-8895
Shadowridge Golf Club
1980 Gateway Dr, Vista, CA 92081
clubcorp.com/Clubs/Shadowridge-Golf-Club
(760) 727-7700
Steele Canyon Golf Club
3199 Stonefield Dr, Jamul, CA 91935
steelecanyon.com
(619) 441-6900
The Crosby Club At Rancho Santa Fe
17102 Bing Crosby Blvd, San Diego, CA 92127, USA
thecrosbyclub.com
+1 858-756-6310
The Farms Golf Club
8500 St Andrews Rd, Rancho Santa Fe, CA 92067
thefarmsgolfclub.com
(858) 756-5585
The Santaluz Club
8170 Caminito Santaluz E, San Diego, CA 92127
thesantaluzclub.com
(858) 759-3120