It shouldn't surprise that many golf pros make Orlando their home. The Orlando area comprises dozens of golf courses, the climate is wonderful and the facilities are top notch. Among the courses, you will find that brands like the Waldorf Astoria and the Four Seasons have resorts meticulously landscaped for golfers of every skill level. Orlando means Walt Disney World to kids, but it can be a theme park for golfers alike.
Don't see your favorite course? Please let us know and we'll add it.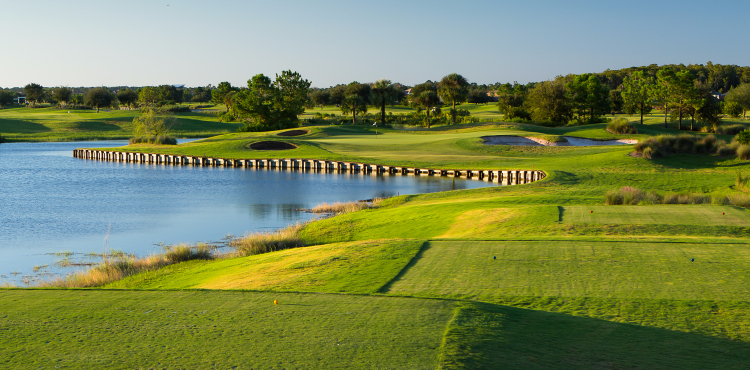 Eagle Creek near Orlando.
Private Courses
Southern Dunes Golf & Country Club
2888 Southern Dunes Blvd, Haines City, FL 33844
https://www.southerndunes.com/
(863) 421-4653
Arnold Palmer's Bay Hill Club & Lodge
9000 Bay Hill Blvd, Orlando, FL 32819
https://www.bayhill.com/
407-876-8030
Country Club of Orlando
1601 Country Club Dr, Orlando, FL 32804
http://www.countrycluboforlando.com
(407) 849-0990
Golden Bear Golf Club
6300 Jack Nicklaus Pkwy Windermere, FL 34786
http://www.thegoldenbearclub.com
(407) 876-5775
Interlachen Country Club
2245 Interlachen Ct, Winter Park, FL 32792
http://www.interlachenccfl.com
(407) 657-0850
Isleworth Country Club
6100 Payne Stewart Drive Windermere, FL 34786
http://isleworth.com
(407) 909-2000
Lake Nona Golf Club, Inc.
9100 Chiltern Dr, Orlando, FL 32827
https://www.lakenona.club/golf/
(407) 857-6216
Orange Tree Golf Club
7540 Woodgreen Dr, Orlando, FL 32819
http://orangetreegolfcluborlando.com/
(407) 351-4034
Public Courses
Casselberry Golf Club
300 S Triplet Lake Dr, Casselberry, FL 32707
http://www.casselberrygolf.com
(407) 699-9310
Disney's Lake Buena Vista Golf Course
1960 Broadway, Lake Buena Vista, FL 32830
https://www.golfwdw.com/courses/disneys-lake-buena-vista-golf-course
(407) 939-4653
Disney's Magnolia Golf Course
1950 West Magnolia Palm Drive, Lake Buena Vista, FL 32830
https://www.golfwdw.com/courses/disneys-magnolia-golf-course
(407) 939-4653
Disney's Oak Trail Golf Course
1950 Magnolia Palm, Orlando, FL 32830
https://www.golfwdw.com/courses/disneys-oak-trail-golf-course
(407) 939-4653
Disney's Palm Golf Course
1950 Magnolia Palm, Orlando, FL 32830
http://golfwdw.com/magnolia-golf-course
(407) 938-4653
Dubsdread Golf Course
549 W Par St, Orlando, FL 32804
http://www.historicaldubsdread.com
(407) 246-2551
Duran Golf Club
1200 Duda Trl, Oviedo, FL 32765
https://www.durangolf.com/
(407) 365-2142
Eagle Creek Golf Club – FL
10350 Emerson Lake Blvd, Orlando, FL 32832
http://www.eaglecreekgolf.info
(407) 273-4653
Eastwood Golf Club
13950 Golfway Blvd, Orlando, FL 32828
http://www.golfateastwood.com
(407) 281-4653
Fairways Golf Club
14205 E Colonial Dr, Orlando, FL 32826
https://www.golffairwayscc.com/
(407) 270-6700
Falcon's Fire Golf Club
3200 Seralago Boulevard | Kissimmee, FL 34746
http://falconsfire.com
(407) 239-5445
Grand Cypress Golf Club
1 N Jacaranda St, Orlando, FL 32836
http://www.grandcypress.com
(407) 239-4700
Hunter's Creek Golf Club
14401 Sports Club Way, Orlando, FL 32837
https://golfhunterscreek.com
(407) 240-4653
MetroWest Golf Club
2100 S Hiawassee Rd, Orlando, FL 32835
http://www.metrowestgolf.com
(407) 299-1099
North Shore Golf Club – FL
11507 N Shore Golf Club Blvd, Orlando, FL 32832
https://www.golfatnorthshore.com
(407) 277-9277
Rio Pinar Country Club
8600 El Prado, Orlando, FL 32825
https://www.riopinar.com/
(407) 286-6920
Shingle Creek Golf Club
9939 Universal Blvd, Orlando, FL 32819
https://www.shinglecreekgolf.com/
(866) 996-9933
Stoney Brook Golf Shop
2900 Northampton Ave, Orlando, FL 32828
http://www.golfatstoneybrook.com
(407) 384-6888
Twin Rivers Golf Club
2100 Ekana Drive, Oviedo, FL 32765
http://www.twinriversgolfclub.com/
(407) 366-1211
The Country Club of Mount Dora
1900 Country Club Blvd. Mount Dora, FL 32757
https://www.ccofmtdora.com/
(352) 735-2263
The Country Club at Deer Run
300 Daneswood Way, Casselberry, FL 32707
http://www.deerruncc.com/
(407) 699-9592
Venetian Bay Golf Club
63 North Airport Road | New Smyrna Beach, FL 32168
https://www.venetianbaygolf.com
(386) 424-5775
Ventura Country Club
3333 Woodgate Blvd, Orlando, FL 32822
http://www.venturaorlando.com
(407) 275-7002
Waldorf Astoria Maintenance Shop
14200 Bonnet Creek Resort Lane, Orlando, FL 32821
https://waldorfastoria3.hilton.com/en/hotels/florida/waldorf-astoria-orlando-ORLBCWA/amenities/golf.html
(407) 597-5500
Wedgefield Golf Club
20550 Maxim Pkwy, Orlando, FL 32833
http://www.wedgefieldgolf.net
(407) 568-2116
Wekiva Golf Club
4100 Wekiva Club Ct, Longwood, FL 32779
http://www.wekivagc.com
(407) 862-5113
Winter Pines Golf Club
950 S Ranger Blvd, Winter Park, FL 32792
http://www.winterpinesgc.com
(407) 671-3172
Grande Lakes at The Ritz-Carlton
4040 Central Florida Parkway, Orlando, FL 32837
http://www.ritzcarlton.com/en/hotels/florida/orlando/area-activities/golf
(407) 393-4900