The Monterey Peninsula is world famous for its rugged coastline, annual Pebble Beach Pro-Am tournament, and some of the most beautiful and challenging golf courses in the world. To help you take advantage of all the wonderful golf courses the Monterey Peninsula has to offer, we've put together an interactive map (above) and accompanying list (below) of Monterey golf courses to help make your decision about where to play as easy as possible. We hope these tools will help you spend less time doing research and more time playing–with premium clubs from Clublender.
And once you pick a course where you want to play, we'll take care of getting your golf clubs there or to your accommodations (or just about anywhere else you'd prefer, for that matter); wherever is easiest for you. We provide rental golf clubs in the entire Monterey area, including Monterey Peninsula, Carmel, Santa Cruz, Pacific Grove, and Seaside. You can focus on golf and sun while we handle the logistics. Plan your golf outing today and rent clubs from Clublender so you can own the experience, not the clubs.
Skip checking your golf bag and paying extra baggage fees, shipping your clubs and being without them for up to 10 days, taking your chances at a Monterey golf course and ending up with battered, ancient clubs. Let us take the hassle out of golf. Rent golf clubs online from Clublender. Own the experience, not the clubs.
Don't see your favorite course in the area? Please let us know.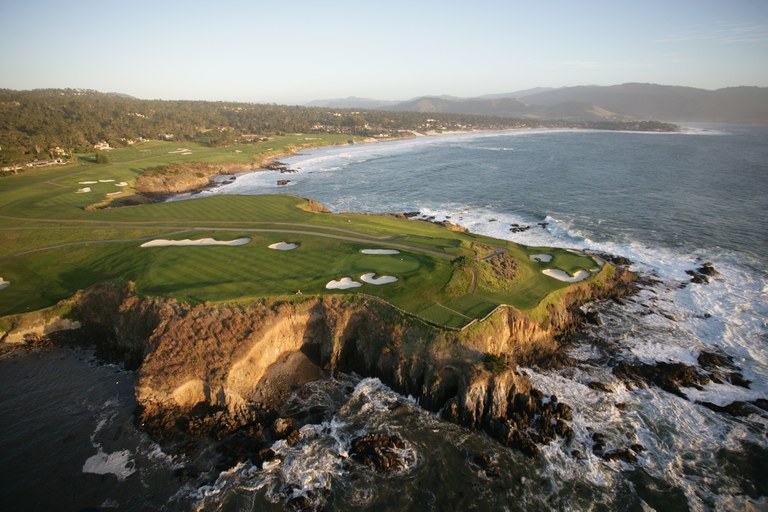 Public Courses
Bayonet and Black Horse
1 McClure Way, Seaside, CA 93955
bayonetblackhorse.com
(831) 899-7271
Carmel Valley Ranch River Ranch
1 Old Ranch Rd, Carmel-By-The-Sea, CA 93923
carmelvalleyranch.com
(855) 687-7262
Casserly Par 3 Golf Course
626 Casserly Rd, Watsonville, CA 95076
casserlygolf.com
(831) 724-1654
Del Monte Golf Course
1300 Sylvan Rd, Monterey, CA 93940
pebblebeach.com/golf/del-monte-golf-course/
(888) 773-8508
Eagle Ridge Golf Course
2951 Club Dr, Gilroy, CA 95020
eagleridgegc.com
(408) 846-4531
Laguna Seca Golf Ranch
10520 York Rd, Monterey, CA 93940
lagunasecagolf.com
(831) 373-3701
Monterey Pines Golf Course
1250 Garden Rd, Monterey, CA 93940
monterey.navylifesw.com
(831) 656-2167
Pacific Grove Golf Links
77 Asilomar Ave, Pacific Grove, CA 93950
pggolflinks.com
(831) 648-5775
Pajaro Valley Golf Club
967 Salinas Rd, Watsonville, CA 95076
pajarovalleygolf.com
(831) 724-3851
Pasatiempo Golf Course
20 Clubhouse Rd, Santa Cruz, CA 95060
pasatiempo.com
(831) 459-9155
Pebble Beach Golf Links
1700 17 Mile Dr, Pebble Beach, CA 93953
pebblebeach.com/golf/pebble-beach-golf-links/
(888) 773-8508
Poppy Hills Golf Course
3200 Lopez Rd, Pebble Beach, CA 93953
poppyhillsgolf.com
(831) 625-1513
Quail Lodge & Golf Club
8205 Valley Greens Dr, Carmel-By-The-Sea, CA 93923
quaillodge.com
(831) 624-2888
Quail Lodge Clubhouse
8000 Valley Greens Dr, Carmel-By-The-Sea, CA 93923
quaillodge.com
(831) 620-8866
Ridgemark Golf Club and Resort
3800 Airline Hwy, Hollister, CA 95023
ridgemarkgolfclub.com
(831) 637-8151
Salinas Fairways Golf Course
45 Skyway Blvd, Salinas, CA 93905
salinasfairways.com
(831) 758-4653
San Juan Oaks Golf Club
3825 Union Rd, Hollister, CA 95023
sanjuanoaks.com
(831) 636-6113
Seascape Golf Club
610 Clubhouse Dr, Aptos, CA 95003
seascapegc.com
(831) 688-3213
Spring Hills Golf Course
501 Spring Hills Dr, Watsonville, CA 95076
springhillsgolf.com
(831) 724-1404
Spyglass Hill Golf Course
3206 Stevenson Drive, Pebble Beach, CA 93953
pebblebeach.com/golf/spyglass-hill-golf-course/
(888) 773-8508
The Club at Crazy Horse Ranch
475 San Juan Grade Rd, Salinas, CA 93906
clubatcrazyhorse.com
(831) 449-6617
The Links at Spanish Bay
2700 17 Mile Dr, Pebble Beach, CA 93953
pebblebeach.com/golf/the-links-at-spanish-bay/
(888) 773-8508
Private Courses
CordeValle Golf Club
1 Cordevalle Club Dr, San Martin, CA 95046
cordevallegolf.com
(408) 695-4500
Corral de Tierra Country Club
81 Corral De Tierra Rd, Salinas, CA 93908
corraldetierracc.com
(831) 484-1112
Cypress Point Club
3150 17 Mile Dr, Pebble Beach, CA 93953
montereypeninsulagolf.com/Cypress-Point-Club
(831) 624-2223
Monterey Peninsula Country Club
3000 Club Rd, Pebble Beach, CA 93953
mpccpb.org
(831) 373-1556
Nicklaus Club – Monterey, formerly Pasadera Country Club
100 Pasadera Dr, Monterey, CA 93940
ncmonterey.com
(831) 647-2400
Santa Lucia Preserve
1 Rancho San Carlos Rd, Carmel-By-The-Sea, CA 93923
santaluciapreserve.com
(831) 620-6700
Tehama Golf Club
25000 Vía Malpaso, Carmel-By-The-Sea, CA 93923
tehamagolfclub.com
(831) 622-2250