Los Angeles has a mild climate in the winter and sunshine almost every day in the summer: perfect for golf year-round. Los Angeles is home to the fabled Riviera Country Club and Los Angeles Country Club, as well as many fine public courses, including Rancho Park, Angeles National, and Griffith Park (Wilson and Harding Courses)–and you can rent golf clubs from Clublender for convenient delivery to any one them.
To help you choose from the profusion of choices among Los Angeles golf courses, we've put together an interactive map (above) and accompanying list (below) of Los Angeles golf courses to help make your decision about where to play as easy as possible. We hope these tools will help you spend less time doing research and more time playing out under the warm, California sun.
And once you pick a course where you want to play, we'll take care of getting your golf clubs there or to your accommodations (or just about anywhere else you'd prefer, for that matter); wherever is easiest for you. Return is included in the price. There are no hidden fees. You can focus on golf and sun while we handle the logistics. Own the experience, not the clubs.
Don't see your favorite course in the area? Please let us know.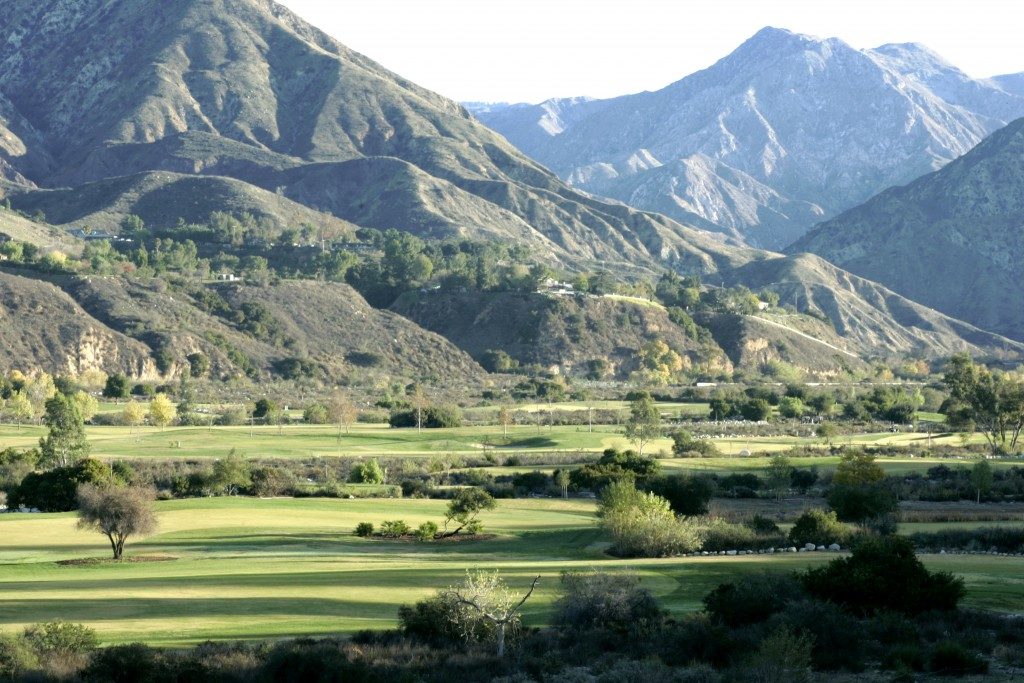 Public Golf Courses
Alhambra Golf Course
http://www.alhambragolf.com/
630 S Almansor St, Alhambra, CA, 91801
(626) 570-5059
Anaheim Hills Golf Course 
http://www.anaheimhillsgc.com
6501 Nohl Ranch Road, Anaheim, CA 92807
(714) 988-6346
Angeles National Golf Club
http://www.angelesnational.com/
9401 Foothill Blvd. Sunland, Los Angeles, CA 91040
(818) 951-8771
Azusa Greens Country Club
http://www.azusagreenscc.com
919 W. Sierra Madre Ave, Azusa, CA 91702
(626) 969-1727
Balboa Golf Course
http://golf.lacity.org/cdp_encino.htm
16821 Burbank Rd. Encino, CA 91463
(818) 995-1170
Birch Hills Golf Course 
http://birchhillsgolf.com/
2250 E Birch Street, Brea, CA 92821
(714) 831-0550
Black Gold Golf Club 
http://www.blackgoldgolf.com
1 Black Gold Drive, Yorba Linda, CA 92886
(714) 961-0060
Brea Creek Golf Course 
http://www.golfbrea.com
501 W Fir Street, Brea, CA 92621
(714) 529-3003
Brookside Golf Course
http://brooksidegc.com/
1133 N Rosemont Ave, Pasadena, CA 91103
(626) 585-3594
Chester Washington Golf Course
http://www.chesterwashington.com/
1818 Charlie Sifford Drive Los Angeles, CA 90047
(323) 756-2516
Coyote Hills Golf Course 
http://www.coyotehillsgc.com
1440 E. Bastanchury Road, Fullerton, CA 92835
(714) 672-6800
Dad Miller Golf Course 
http://www.dadmillergc.com
430 North Gilbert Street, Anaheim, CA 92801
(714) 786-6101
David L. Baker Memorial Golf Course 
http://www.davidlbakergc.com
10410 Edinger Ave, Fountain Valley, CA 92708
(714) 418-2152
Debell Golf Club
http://www.debellgolf.com/
1500 East Walnut Ave. Burbank, CA 91501
(818) 845-0022
Diamond Bar Golf Club
http://www.diamondbargolf.com/
22751 E. Golden Springs Drive Diamond Bar, CA 91765
(909) 861-8282
El Dorado Park Golf Course
http://www.eldoradoparkgc.com
2400 Studebaker Road, Long Beach, CA 90815
(562) 430-5411
Fullerton Golf Course 
http://www.fullertongc.com
2700 N. Harbor Boulevard, Fullerton, CA 92835
(714) 578-9201
Harding Golf Course
http://golf.lacity.org/cdp_harding.htm
4730 Crystal Springs Dr. Los Angeles, CA 90027
(323) 663-2555
Heartwell Golf Course
http://www.heartwellgc.com
6700 East Carson Street, Long Beach, CA 90808
(562) 4218855
Industry Hills Golf Club
http://www.skylinksgc.com
One Industry Hills Parkway , Industry Hills , CA 91744
(626) 810-4653
Los Amigos Golf Course
http://www.losamigosgc.com/
7295 Quill Drive Downey, CA 90242
(562) 923-9696
Los Robles Greens Golf Course
http://www.losroblesgreens.com/
299 South Moorpark Rd Thousand Oaks, CA 91361
(805) 495-6421
Los Verdes Golf Course
http://www.losverdesgc.com/
7000 W. Los Verdes Drive Rancho Palos Verdes, CA 90275
(310) 377-7888
Marshall Canyon Golf Course
http://www.marshallcanyon.com/
6100 N. Stephens Ranch Rd. La Verne CA 91750
(909) 593-8211
Meadowlark Golf Club 
http://www.meadowlarkgc.com
16782 Graham Street, Huntington Beach, CA 92649
(714) 846-1364
Monterey Park Golf Course 
http://www.montereyparkgolfclub.com
3600 W Ramona Blvd, Monterey Park, CA 91754
(323) 266-4632
Navy Golf Course 
http://www.navygc.com
5660 Orangewood Ave, Cypress, CA 90630
(714) 889-1576
Rancho Duarte Golf Course
http://www.ranchoduartegolfcourse.org
1000 Las Lomas Rd., Duarte, CA 91010
(310) 649-9173
Recreation Park Golf Course 18 
http://www.recpark18.com
5001 Deukmejian Drive, Long Beach, CA 90804
(562) 494-4424
Rio Hondo Golf Club
http://www.riohondogc.com/
10627 Old River School Rd, Downey, CA 90241
(562) 927-2329
River View Golf Course 
http://www.riverviewgolf.com
1800 West Santa Clara, Santa Ana, CA 92706
(714) 543-1115
Royal Vista Golf Club 
http://www.larv.com
20055 Colima Rd, Walnut, CA 91789
(909) 595-7441
Rustic Canyon Golf Club
http://www.rusticcanyongolfcourse.com/
15100 Happy Camp Canyon Rd Moorpark, CA 93012
(805) 530-0221
San Dimas Canyon Golf Club 
http://www.sandimasgc.com
2100 Terrebonne Blvd., San Dimas, CA 91773
(909) 599-2313
Sand Canyon Country Club 
http://www.sandcanyoncc.com
27734 Sand Canyon Road, Santa Clarita, CA 91351
(661) 252-8484
Santa Anita Golf Course
http://www.santaanitagc.com/
405 S. Santa Anita Avenue Arcadia, CA 91006
(626) 447-7156
Scholl Canyon Golf and Tennis Club
http://www.schollcanyongc.com/
3800 E Glenoaks Blvd, Glendale, CA 91206
(818) 243-4100
Skylinks Golf Course
http://www.skylinksgc.com
4800 East Wardlow Road, Long Beach, CA 90808
(626) 357-9981
The Links at Terranea 
http://www.terranea.com/
6610 Palos Verdes Drive South, Rancho Palos Verdes, CA 90275
(310) 265-2755
The Links at Victoria Golf Course
http://www.linksatvictoria.com/
340 E. 192nd St. Carson, CA 90746
(310) 323-4174
Trump National Golf Club
http://www.trumpnationallosangeles.com/
One Trump National Dr. Rancho Palos Verdes, CA 90275
(310) 265-5000
Vista Valencia Golf Course 
http://www.vistavalenciagc.com
24700 West Trevino Drive, Valencia, CA 91355
(661) 253-1870
Westchester Golf Course
http://www.westchestergc.com
6900 W. Manchester Blvd., Los Angeles, CA 90045
(310) 649-9173
Willowick Golf Course 
http://www.willowickgolf.com
3017 West 5th Street, Santa Ana, CA 92703
(714) 554-0672
City 18 Hole Courses
Balboa Golf Course
http://golf.lacity.org/cdp_balboa.htm
16821 Burbank Blvd, Encino, CA 91436
(818) 986-4560
Encino Municipal Golf Course
http://golf.lacity.org/cdp_encino.htm
16821 Burbank Blvd. Encino, CA 91436
(818) 986-4560
Hansen Dams Golf Course
http://golf.lacity.org/cdp_hansen.htm
10400 Glenoaks Blvd. Pacoima, CA 91331
(818) 896-0050 / (818) 899-2200
Rancho Park Municipal Golf Course
http://golf.lacity.org/cdp_rancho.htm
10460 West Pico Blvd, Los Angeles, CA 90064
(310) 838-7373
Wilson Golf Course
http://golf.lacity.org/cdp_wilson.htm
4730 Crystal Springs Dr. Los Angeles, CA 90027
(323) 664-2255
Woodley Lakes Golf Course
http://golf.lacity.org/cdp_woodley.htm
6331 Woodley Ave, Van Nuys, CA 91406
(818) 780-6886
Private Golf Courses
Bel-Air Country Club
http://www.bel-aircc.golf/
10768 Bellagio Rd, Los Angeles, CA 90077
(310) 472-9563
Braemar Country Club
http://www.clubcorp.com/
4001 Reseda Blvd, Tarzana, CA 91356
(818) 345-6520
Brentwood Country Club
http://www.brentwoodcc.net/
590 S Burlingame Ave, Los Angeles, CA 90049
(310) 451-8011
Calabasas Country Club
http://www.calabasasgolf.com/
4515 Park Entrada, Calabasas, CA 91302
(818) 222-8111
Candlewood Country Club 
http://www.candlewoodcountryclub.com/
14000 Telegraph Rd, Whittier, CA 90604-2596
(562) 941-1228
El Caballero Country Club
http://www.elcaballerocc.com/
18300 Tarzana Dr, Tarzana, CA 91356
(818) 654-3000
Hillcrest Country Club
http://www.hcc-la.com/
10000 W Pico Blvd, Los Angeles, CA 90064
(310) 553-8911
Lakeside Golf Club
http://lakesidegolfclub.com/
4500 Lakeside Dr, Burbank, CA 91505
(818) 984-0601
Los Angeles Country Club
http://www.thelacc.org/
10101 Wilshire Blvd. Los Angeles, CA 90024
(310) 276-6104
MountainGate Country Club
http://www.mtngatecc.com/
12445 Mountaingate Dr, Los Angeles, CA 90049
(310) 476-6215
Riviera Country Club
http://www.therivieracountryclub.com
1250 Capri Dr. Pacific Palasides, CA 90270
(310) 454-6591
Sherwood Country Club
http://www.sherwoodcc.com/
320 W Stafford Rd, Thousand Oaks, CA 91361
(805) 496-3036
Van Nuys Golf Club
http://vannuysgc.com
6550 Odessa Ave, Van Nuys, CA 91406
(818) 785-8871
Wilshire Country Club
http://www.wilshirecountryclub.com/
301 N Rossmore Ave, Los Angeles, CA 90004
(323) 934-1121
9 Hole, 3-Par or Special Courses
Armand Hammer/Holmby Park Pony Course
http://golf.lacity.org/cdp_holmby.htm
601 Club View Drive Los Angeles, CA 90024
(310) 276-1604
Bixby Village Golf Course 
http://www.bixbyvillagegolfcourse.com
6180 Bixby Village Dr, Long Beach, CA 90803
(562) 498-7003
Don Knabe Golf Center & Junior Academy
http://www.playnorwalk.com/
13717 Shoemaker Ave, Norwalk, CA 90650
(562) 921-7047
Eaton Canyon Golf Course
http://golfeatoncanyongc.com/
1150 N. Sierra Madre Villa Ave. Pasadena, CA 91107
(626) 794-6773
El Cariso Golf Course
http://elcarisogc.com/
13100 Eldridge Ave. Sylmar, CA 91342
(818) 367-6157
Harbor Park Golf Course
http://golf.lacity.org/cdp_harbor.htm
1235 N Figueroa Pl. Wilmington, CA
(310) 549-4953
Heroes Golf Club
http://www.scga.org/courses/details/heroes-golf-course
11301 Wilshire Blvd, Los Angeles, CA 90073
(310) 473-0710
Los Feliz 3 Par Golf Course
http://golf.lacity.org/cdp_los_feliz.htm
3207 Los Feliz Blvd. Los Angeles, CA 90039
(323) 661-2355; (323) 663-7758
Maggie Hathaway Golf Course
http://parks.lacounty.gov/
9637 South Western Avenue Los Angeles, CA 90047
(323) 755-6285
Penmar Golf Course
http://golf.lacity.org/cdp_penmar.htm
1233 Rose Avenue Venice, CA 90291
(310) 396-6228
Pico Rivera Golf Club
http://www.picoriveragolf.com
3260 Fairway Drive, Pico Rivera, CA 90660
(626) 585-3594
Roosevelt Golf Course
http://golf.lacity.org/cdp_roosevelt.htm
2650 N. Vermont Ave. Los Angeles, CA 90027
(323) 665-2011
Weddington Golf and Tennis
http://weddingtongolfandtennis.com/
4141 Whitsett Ave, Studio City, CA 91604
(818) 761-3250
County Courses (18 and 9 Holes)
Alondra Golf Course
Full 18-Hole and Par-3 18-Hole
http://parks.lacounty.gov/wps/portal/dpr/ThingsToDo/Golf/Alondra_Golf_Course
16400 South Prairie Avenue, Lawndale, CA 90260
(310) 217-9919
Altadena Golf Course
9-Hole
http://parks.lacounty.gov/
1456 East Mendocino Street Altadena, CA 91001
(626) 797-3821
Arcadia Golf and Practice Center 
18-hole Par 3
http://www.arcadiagc.com
620 East Live Oak, Arcadia, CA 91006
(626) 443-9367
Chester Washington Golf Course
https://www.chesterwashington.com/
18-Hole
1930 West 120th Street, Los Angeles, CA 90047
(323) 756-6975
Diamond Bar Golf Course
18-Hole
https://www.diamondbargolf.com/
22751 East Golden Springs Drive, Diamond Bar, CA 91765
(909) 861-8282
Eaton Canyon Golf Course
9-Hole
https://www.playeatoncanyon.com/
1150 North Sierra Madre Villa Avenue, Pasadena, CA 91107
(626) 794-6773
El Cariso Golf Course
9-Hole
http://parks.lacounty.gov/el-cariso-golf-course/
13100 Eldridge Street, Sylmar, CA 91342
(818) 367-8742
Knollwood Golf Course
18-Hole
https://www.knollwoodgc.com/
12040 Balboa Boulevard, Granada Hills, CA 91344
(818) 363-8161
La Mirada Golf Course
18-Hole
https://www.lamiradagc.com/
15501 East Alicante Road, La Mirada, CA 90638
(562) 943-7123
Lakewood Golf Course
18-Hole
https://www.lakewoodgolfcc.com/
3101 East Carson Street, Lakewood, CA 90712
(562) 429-9711
Los Amigos Golf Course
18-Hole
https://www.losamigosgc.com/
7295 East Quill Drive, Downey, CA 90242
(562) 869-0302
Los Verdes Golf Course
18-Hole
https://www.losverdesgc.com/
7000 West Los Verdes Drive, Rancho Palos Verdes, CA 90275
(310) 377-7370
Marshall Canyon Golf Course
18-Hole
http://www.marshallcanyon.com/
6100 North Stephens Ranch Road, La Verne, CA 91750
(909) 593-8211
Mountain Meadows Golf Course
18-Hole
https://www.mountainmeadowsgc.com/
1875 Fairplex Drive, Pomona, CA 91768
(909) 623-3704
Recreation Park 9 Golf Course
9-Hole
http://www.recpark9.com
5000 East 7th Street, Long Beach, CA 90804
(562) 438-4012
Santa Anita Golf Course
18-Hole
https://www.santaanitagc.com/
405 South Santa Anita Avenue, Arcadia, CA 91006
(626) 447-2331
Victoria Golf Course
18-Hole
https://www.linksatvictoria.com/
340 East 192nd Street, Carson, CA 90746
(310) 323-4174
Whittier Narrows Golf Course
18-Hole and 9-Hole
https://www.whittiernarrowsgc.com/
8640 East Rush Street, Rosemead, CA 91770
(626) 288-1044