If Texas is a state with a rich golf history, its capital city is a great example of that. Other than being the tech hub of Texas, Austin has a tradition embracing legends from Ben Crenshaw to Tom Kite and the late Harvey Penick. Avery Ranch, located northwest of Austin, is a spectacular golf course, nominated Top Luxury Golf Course and Best Place to Hold a Corporate Event by Avid Golfer in 2014.
Don't see your favorite course? Please let us know and we'll add it.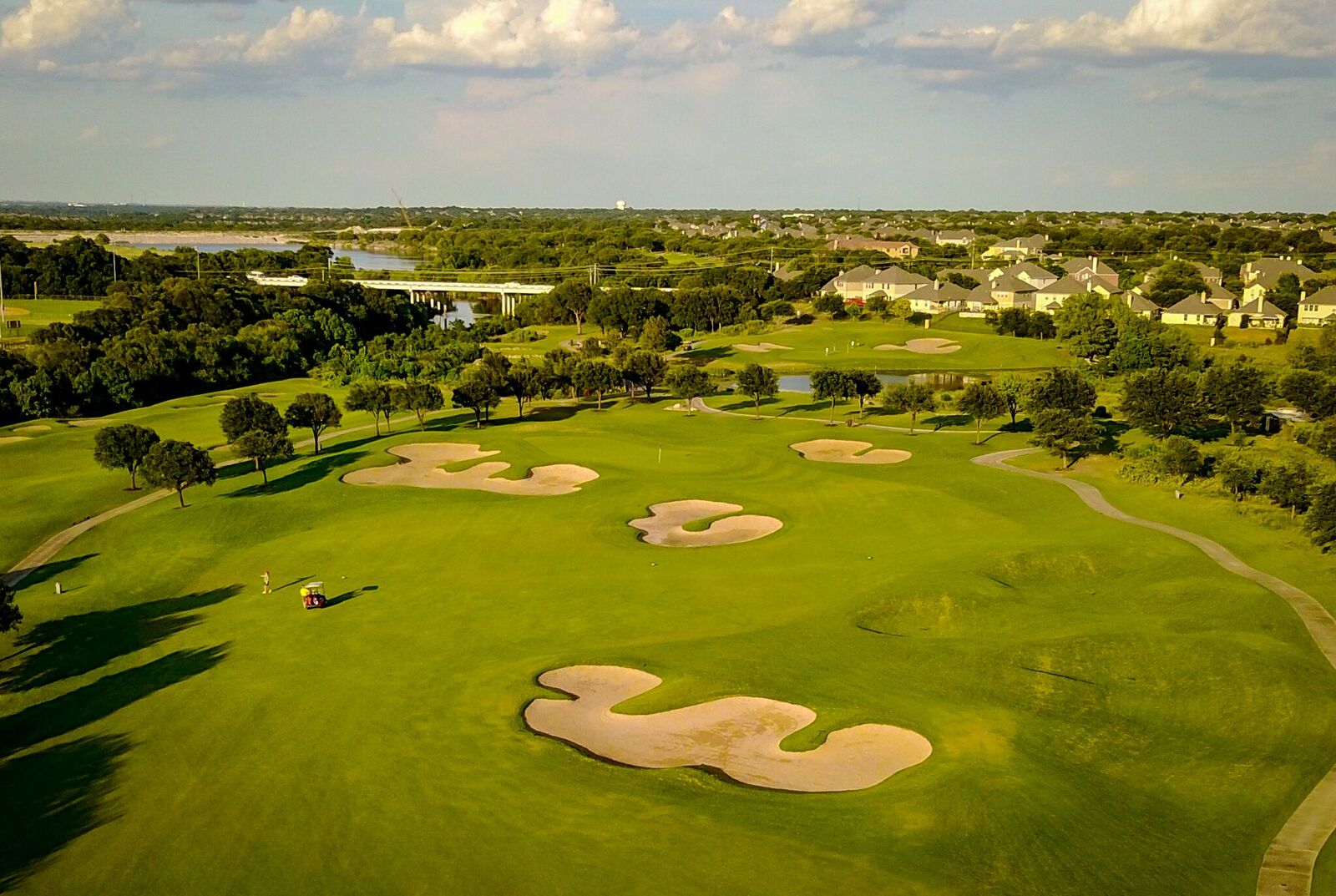 Avery Ranch Golf Club in Austin.
Private Courses
Balcones Country Club
8600 Balcones Club Dr, Austin, TX 78750
http://www.balconescountryclub.com
(512) 258-2775
Flintrock Falls Golf Course
26 Hills Drive, Austin, TX 78738
http://www.nicklaus.com/design/flintrockfalls/
(512) 263-6090
Great Hills Country Club
5914 Lost Horizon Dr, Austin, TX 78759
http://www.greathillscc.org
(512) 345-6940
Lost Creek Country Club
2612 Lost Creek Blvd, Austin, TX 78746
http://www.clubcorp.com/Clubs/Lost-Creek-Country-Club
(512) 892-1205
Onion Creek Club
2510 Onion Creek Pkwy, Austin, TX 78747
http://www.onioncreekclub.com
(512) 282-2150
River Place Country Club
4207 River Place Blvd, Austin, TX 78730
http://www.riverplaceclub.com
(512) 346-1114
Spanish Oaks Golf Club
13453 West Highway 71, Austin, TX 78738
https://www.spanishoaks.com/golf-club.html
(512) 524-7286
University Of Texas Golf Club
2200 University Club Dr, Austin, TX 78732
https://www.utgolfclub.com/club/scripts/section/section.asp?NS=HP
(512) 266-6464
Public Courses
Avery Ranch Golf Club
10500 Avery Club Dr, Austin, TX 78717
http://www.averyranchgolf.com
(512) 248-2442
Blackhawk Golf Club
2714 Kelly Ln, Pflugerville, TX 78660
http://www.blackhawkgolf.com
(512) 251-9000
Bluebonnet Hill Golf Course
9100 Decker Ln, Austin, TX 78724
http://www.bluebonnethillgolf.com
(512) 272-4228
Falconhead Golf Club
15201 Falcon Head Blvd, Austin, TX 78738
http://www.falconheadaustin.com
(512) 402-1558
Fazio Canyons Golf Course
1009 W 40th St, Austin, TX 78756
https://www.omnihotels.com/hotels/austin-barton-creek/golf/fazio-canyons
(512) 329-4653
Forest Creek Golf Club
99 Twin Ridge Pkwy, Round Rock, TX 78664
http://www.forestcreek.com
(512) 388-2874
Hancock Golf Course
811 E 41st St, Austin, TX 78751
http://www.austintexas.gov/golfatx
(512) 974-9350
Harvey Penick Golf Campus
5501 Ed Bluestein Blvd, Austin, TX 78723
http://www.harveypenickgc.com
(512) 926-1100
Jimmy Clay Golf Course
5400 Jimmy Clay Dr, Austin, TX 78744
http://www.austintexas.gov/golfatx
(512) 974-4653
Lions Municipal Golf Course
2901 Enfield Rd, Austin, TX 78703
http://www.austintexas.gov/golfatx
(512) 477-6963
Morris Williams Golf Course
3851 Ranch Road 2222, Austin, TX 78731
http://www.austintexas.gov
(512) 974-8333
Riverside Golf Course
1020 Grove Blvd, Austin, TX 78741
http://www.riverside-gc.com
(512) 223-6677
Shadowglen Golf
12801 Lexington St, Manor, TX 78653
http://shadowglengolf.com
(512) 278-1304
Grey Rock Golf Club
7401 State Highway 45, Austin, TX 78739
https://www.greyrockgolfandtennis.com/request_tt/
(512) 288-4297
Roy Kizer Golf Course
5400 Jimmy Clay Dr. Austin, TX 78744
http://www.austintexas.gov/golfatx
(512) 974-4653