This map shows the number of business days' notice that we need in order to fulfill your order, without expediting it, for destinations within the color-coded regions.
Let's say, for example, that the first day of your rental period were on a Saturday at a southern California destination. Shipments within southern California typically require one day in transit to arrive from our west coast fulfillment hub. We aim to have your equipment arrive at your destination the afternoon or evening prior to your rental start date, but we've seen some recent shipping delays and so we're currently aiming for arrival two days prior to your rental start date to allow an extra day of transit time. In this example, then, we'd aim to have your equipment arrive at your destination in southern California by Thursday, so we'd need to ship it by Wednesday. As a result, we'd need to receive your order by 1pm PT on Wednesday.
Notice needed prior to first playing date (number of business days)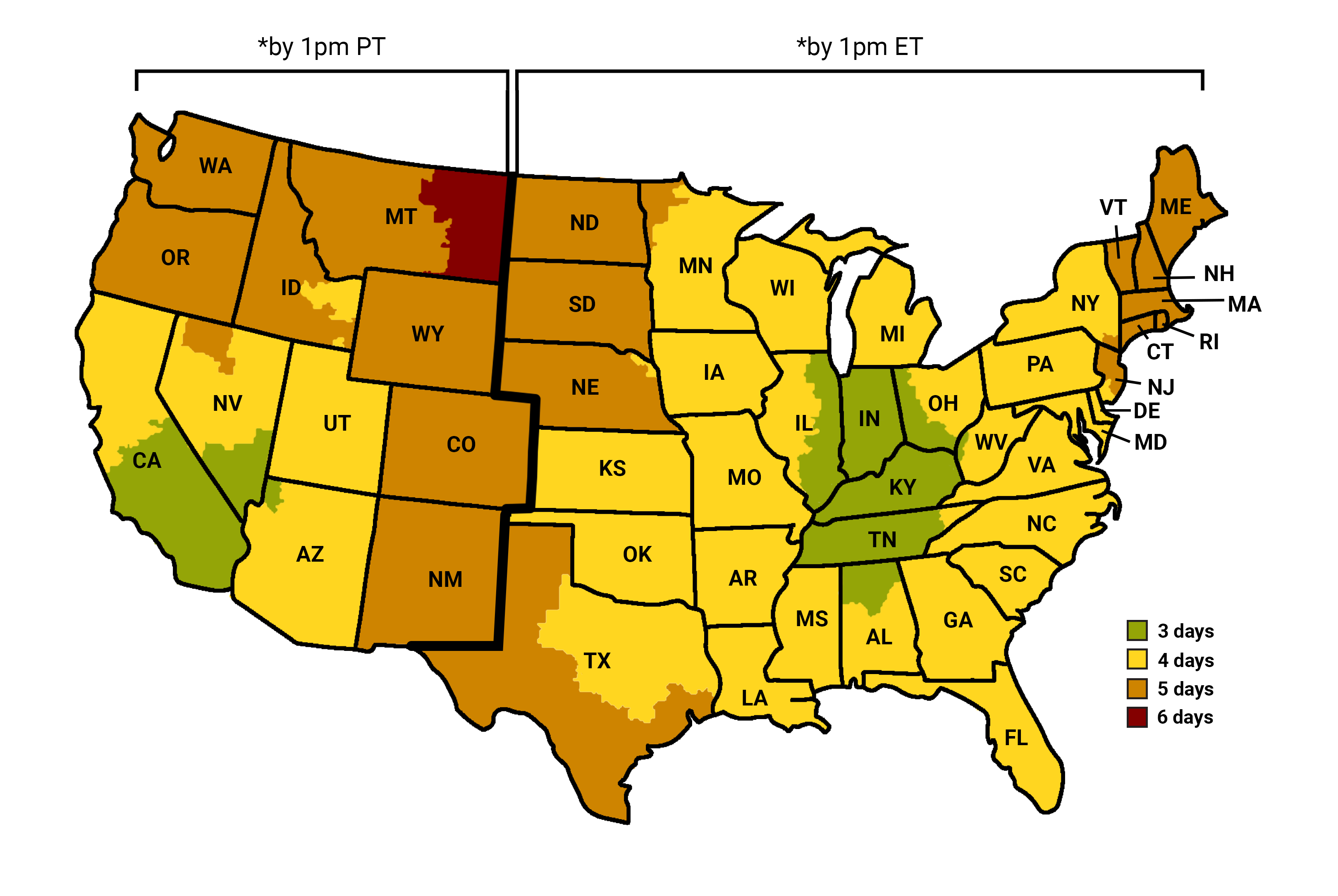 As another example, if you were playing in North Carolina with, say, a Friday rental start date, we'd aim to have your equipment at your North Carolina destination by Wednesday afternoon or evening. We'd need to account for two days of transit for the equipment to get from our eastern fulfillment hub to your North Carolina destination, so we'd need your order by 1pm ET on Monday.
Expedited shipping
In many cases, we can fulfill your order in less time than this map suggests. In these cases, simply select the dates for which you'd like the equipment. Once you get to checkout, you'll see any expedited surcharges associated your selected start date. Please also feel free to place your order over the phone during our customer service hours.
More on changes to transit costs and timing associated with recent shipping delays
Recent events surrounding social protests and the novel coronavirus have had two important implications on the services of our shipping partners: first, they've seen a spike in volume as more of us depend on, for example, home and office delivery of goods than had been the case before these events, and, second, they've seen a higher incidence of delays with the associated increased strain on their logistics networks.
For orders far enough into the future, you won't see any resulting change in cost. Orders in the near future, though, might incur expedited fees even where that timing wouldn't typically trigger such a fee. Additionally, certain orders that would need to be expedited under normal circumstances might now need to be expedited by an additional day, incurring an incremental expedited cost increase. We recognize that this cost increase, where applicable, could be frustrating, but we also recognize how important it is that you receive your order on-time.
Finally, the inclusion of a "buffer day" means that, unless you're opting for curbside pickup in Los Angeles or selecting a shipping destination that allows for Saturday delivery, you won't be able to select a rental start on the website sooner than three business days from today. If you're interested in equipment but facing this timing constraint, please contact us.
---
You can learn more about how we approach the timely arrival of your equipment in the Timing and Quality Assurance section of our Terms. Please note that if you're in Los Angeles and need equipment more quickly than this map suggests you can receive it, you may be able to take advantage of curbside pickup at our Los Angeles fulfillment hub.
Learn more about our pricing.